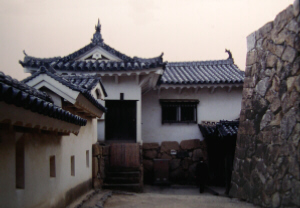 Castle in Japan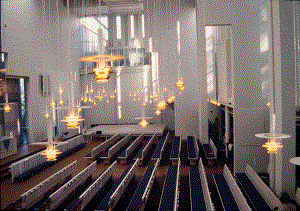 Church in Finland

R & D
We do some sort of research for every project, usually proportional to the projects size. This research falls into several categories: history of an existing building or building type; analysis of examples of similar project's; identification of cost-effective techniques and materials; evaluation of new products; developing new computer capabilities; traveling to see exceptional architecture around the world; attending lectures; and reading architecture–related books and articles.
For example, since we began working on synagogues, we have bought and read five books on the history of the building type and reviewed numerous articles. We have visited 35 noteworthy synagogues locally, nationally, and worldwide. We have interviewed administrators, rabbis, cantors, congregants, caterers, custodians, and teachers in many of these synagogues. We have calculated the direction of Jerusalem at 3°-50' South of East from Washington. The Torah provided guidance for the Sanctuary (Exodus 35), and the ark (Genesis 3:7) at Adat Shalom. We bring the same focus on research to each of our jobs.
We have built up a good reference library to support our research. As a result, we can research many technical and architectural questions in-house.
We also travel to see first hand the great buildings of the world and see new work. Between us over the last few years, we have looked at significant buildings as far afield as Finland, Russia, Japan, Morocco, California, New York, San Diego, Milwaukee, Montreal, Paris, Berlin, and London.