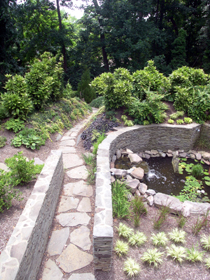 Access to and privacy from the bike path
Empty Nesters
Bob and Carol wanted to build a small energy-efficient "green" house. They bought a dilapidated Monopoly-block house with a nasty addition. The shell of the main house was in good shape. We dismantled the nasty addition and re-did the interior, re-using and recycling as possible. The final house is 1,700 square feet.
The existing house was not connected to the rear yard, which backs onto a bike path. We moved the kitchen and dining to the basement and connected it to a sheltered courtyard in the rear. Excavated earth was pushed back to create a berm behind a porous retaining wall with no reinforced concrete or block. It is made from a quarry's unused slate fragments stacked in front of gravel.
They wanted the house to have a cozy contemporary feeling. As requested, the house includes, "memory elements", that are based on fond family recollections. Like family pictures they are meant to connect the family to this place.